Homeowner Mailer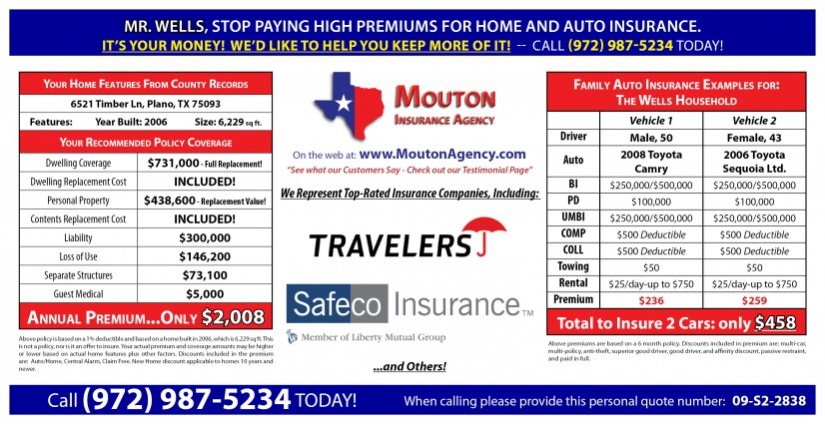 We send to select homes in Frisco, Plano, and McKinney a quote in the form of a color postcard. The one above is our most recent. Yours may be a little different in appeareance. These quotes are sent to those who we believe through public records are coming up for renewal on their current homeowners policy within 30-45 days. We feel this is the perfect time to shop your homeowners policy.
We have included in this quote a multy-policy discount for auto insurance and a claim free discount and alarm discount. If your interested in comparing rates and service locate your current home and auto policies declarations page. This will provide us with accurate information to provide you with a apples to apples comparrison.
Your final rate may be lower or higher based on your actual score and discounts you qualify for. We hope you will take a minute to call and let us compare your current rates to those we can offer. Again it's your money and we would like to help you keep more of it. Click here to see what people have to say about our agency.
Click here and send me a message and provide me with some contact information and I will be happy to call you and answer questions and help in in any way I can.
First I would like to explain that several issues lead to your final quote. You are probably aware that the amount of coverage required to rebuild your home, prior claims history, and age of home all are factors that affect your rate of insurance, what you may not understand is referred to as a insurance score. The insurance score can be the biggest factor in determining your rate and because of that it is really impossible for us to promise you any rate until we have ordered your insurance score. It is also important to know that each company scores you on a different scoring system that the company feels offers them the best system to get the best price to their target market. My goal is to find the company who's target market offers you the best value.
How much should your home be insured for? Most consumers look at the cost of the home or appraised value and assume that has some bearing on the amount your home should be insured for. This is incorrect. We use national figures related to labor and cost of materials. Total square footage and special features related to your home and quality of the kitchen and bathrooms are factors that determine home much will be required to rebuild your home. If you find an agent willing to insure your home for far less than others then I suggest you find another agent. We will not offer you a solution based on making a sale. We will only offer a solution that is in your best interest.
The amount of dwelling coverage on the quote you receive in the mail is subject to change. We must gather from you a few pieces of information pertaining to your homes construction. Confirming facts like one or two story, number of bathrooms, type of garage, quality of your kitches and bathrooms are just a few of the details that should be taken into consideration when putting a number on the amout of coverage that will be required to rebuild your home. We do not have the ability to gather this type of detail from public records and incorporate it into our mailer.
---
Need an insurance quote? Get in touch!
Access quotes from Texas' most trusted insurance carriers. It's comparison shopping at the click of a mouse.